In 2020, most companies use some form of customer relationship management software, otherwise known as CRMs, for their day-to-day operations. In fact, according to research, 91% of businesses with at least 11 employees have embraced the ease of using CRM software to keep track of various operational tasks. The rise in CRM use is, of course, for good reason.
Companies who have integrated this technology onto their processes have seen a 29% increase in sales, a 34% improvement in productivity, and a 40% boost in forecasting accuracy. CRM software can bolster the growth of your company. However, not all CRM platforms are created equal. Different industries call for different software. Choosing the right software is as important as considering CRMs as a whole.
For the most part, Salesforce and Hubspot are two of the most popular CRM options available in the market today. This article would dive deep into the pros and cons of each platform thus helping you make the right decision.
<< Hubspot Ready Websites - The CMS that can support your website, marketing campaigns, sales, and customer service activity. >>
Hubspot VS Salesforce: The Similarities
If you have been in search of the right CRM platform for your company, we are certain that you have come across both Hubspot and Salesforce. They are, after all, the biggest players in the game. In making the decision, it is important to start with the similarities that both CRM provides can offer.
Both Salesforce and Hubspot are cloud-based platforms. You don't have to download a program in order to run these CRMs. Moreover, Salesforce and Hubspot boast of centralized data management that can be accessed and utilized through specialized "hubs." This means that you only have to input data once. Your marketing, sales, and production "hubs" have the ability to use the same data for operational procedures specific to their departments. Both platforms claim easy automation on tedious tasks such as report creation, lead management, and time tracking.
Hubspot VS Salesforce: A Comparison
With that said, the similarities of Hubspot and Salesforce end there. While offering the same service, these two platforms are widely different and cater to a different segment of the market. In order to get a clearer picture of the best choice for your operation, below is a comparison between the two based on several categories including ease of use, personalization, scalability, support, security, and above all, pricing.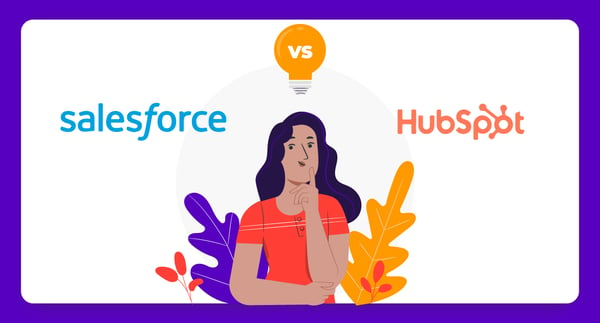 Ease of Use
One of the most important, if not the most important, factor that you have to look into when it comes to choosing the right CRM is its ease of use. After all, you don't want to invest in a platform that no one uses because it's difficult to understand.
With that said, when it comes to ease of use, Hubspot overtakes Salesforce by a long shot. This platform is designed to be used by everyone. Its user experience is unmatched and a paid subscription comes with dedicated support. In fact, even a free subscription comes with a lush knowledge base through Hubspot's free content on their blog and youtube channel.
Salesforce, on the other hand, is designed with enterprises in mind. For the most part, a skilled Salesforce admin is needed in order to manage the platform. The learning curve is pretty steep with Salesforce. Overall, it isn't the best option for medium businesses that can't afford a dedicated Salesforce employee.
Winner: Hubspot
Degree of Personalization
Businesses are different. Even companies in the same industry take various approaches to their day-to-day operations. In order to make the most out of the CRM software, the platforms must be able to offer flexibility and personalization.
While Salesforce requires the help of a seasoned admin, this platform offers endless customizations for even the most complex business transactions. The platform is capable of integrating 3,400 applications through AppExchange. In comparison, while easy to use, Hubspot's App Marketplace only hosts about 500 app integrations.
Winner: Salesforce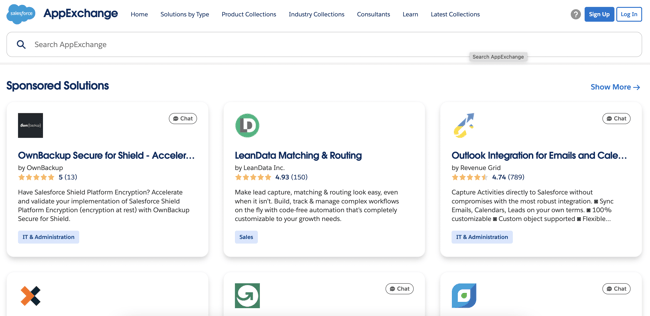 Scalability
The right CRM platform is able to grow with your business. This is the reason why it is important to make the right decision at the onset. The software that you choose should be able to transform as you build your company further.
Salesforce is created for large companies that perform niche tasks and require niche management. While it is the best choice if your operation requires a great deal of specialized customizations, Hubspot offers unmatched scalability to the tune of a free subscription. You can start using Hubspot without putting any money down. This means that as your business grows and your budget has more leeway, you would be able to invest on the platform even further.
Winner: Hubspot
Support
A CRM platform is quite an investment. Even opting for a cheaper package means dolling out a couple of hundred dollars every month for the software, As a customer, you want the reassurance that help is available at every step of the way.
Again, this is where Hubspot takes the lead. Hubspot offers a wealth of knowledge, not only about their platform but best sales and marketing practices in general, absolutely free on the Hubspot Academy. Salesforce Trailhead e-learning hub but it doesn't match the content that Hubspot is producing.
Moreover, a paid Hubspot subscription already comes with 24/7 phone support as well as access to a live chat. For comparison, Salesforce' Standard support package has a two-day response time for most questions.
Winner: Hubspot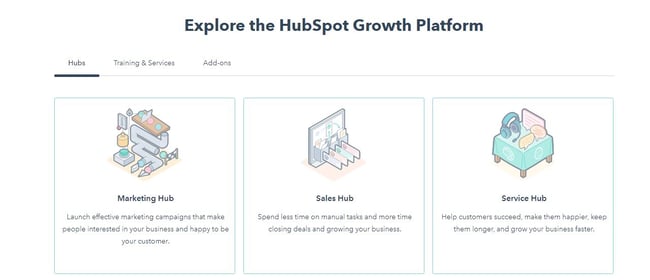 Security and Privacy
Both Salesforce and Hubspot implement rigorous security and privacy standards to protect their client's data. Salesforce has a "Salesforce shield" that allows users to monitor app use, encrypt sensitive data, and run compliance audits.
Consequently, Hubspot has enterprise security and product security teams that are dedicated to implementing Hubspot's security framework.
Winner: Tie
Pricing
For most business purchases, the price is the crux that usually steers the decision. This, of course, extends to choosing the right CRM software.
Hubspot offers a free subscription for its basic programs. Their enterprise plans, which include access for 10 users, start at $1,200 per month. An additional user costs $120 and initial onboarding costs a one-time $3,000 fee. 24/7 customer support, outbound calling, and sales engagement features such as team emails and an inbox are included free in the enterprise plan.
Salesforce doesn't offer free subscription but potential clients are privy to a 14-day free trial. It costs $1,500 per month for every 10 users. An additional user costs anywhere from $25 to $150 depending on the package. Salesforce onboarding or "Jumpstart" costs a one-time $5000. Phone or email support is 20% of the net cost of the package. Outbound calling is $45 per user per 1,000 minutes and sales engagement features such as an inbox is $25 per user.
Overall, for a team of 10, it costs $17,400 per year to run CRM on Hubspot. While it is $43,680 per year for the same features for a team of 10 on Salesforce.
Winner: Hubspot
Of this comparison alone, it is clear that Hubspot comes out on top when it comes to ease of use, scalability, support, and pricing. Nevertheless, Salesforce offers customization that has yet to be matched by any other CRM.
At the end of the day, the right choice for a CRM depends on the kind of company that you run. However, the points above can make your final decision less daunting.