When we're talking about leads, quantity doesn't necessarily mean quality. Sounds familiar? Of course, you've heard this saying several times before; and, in most cases, it's very true. Even if you don't have thousands of them, high-quality leads are way more beneficial to your business, as they allow you to customize your communication strategy more efficiently.
This way, you'll enjoy a steady, gradual growth. In the next paragraphs, we'll reveal five simple steps that will help you attract top-notch leads. All set? Great, let's go!
1. Lead scoring
To find out which leads are most likely to convert, you can use lead scoring. The most precise models of lead scoring comprise both implicit and explicit information. The explicit scores are obtained from information provided by the leads (industry niche, company size, phone number, e-mail address, geographical location, job title), while implicit scores are automatically extracted from the leads' behavior (website visits, downloads, clicks, e-mail opening rates etc.).
Another precious thing you can use is the famous social score - here, the lead relevancy is analyzed based on the prospects' behavior on social media networks.
With lead scoring, you will be able to tailor prospects' experiences based on their level of interest and buying stage. This significantly enhances the "preparedness" and quality of leads.
We use Hubspot Lead Scoring tool to help us with manual and predictive lead scoring like shown in the following image.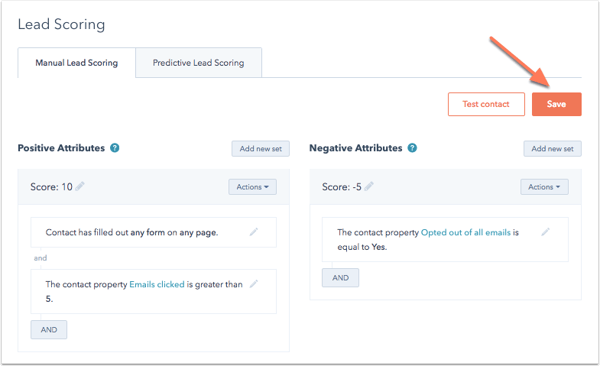 2. Be active on forums and other online Q&A communities
When someone asks questions about a certain type of product or service, it means that they're really interested in making a purchase, thus they can become a high-quality lead. Forums and online Q&A communities (such as Quora) are perfect for communicating with potential clients and getting meaningful feedback.
Moreover, when a company personally responds to users' questions, this helps strengthen the brand's trustworthiness.
Some of the most used forums you can use are Reddit, Quora, StumbleUpon that are major forums with all kind of topics where you can research keywords or topics to engage with.
You can also try some other site's like Digg or even 9gag for a more creative approach of topics.
3. Implement a referral system
People are more inclined to purchase when a friend or family member recommends a specific product or service. Therefore, chances are that leads generated via a referral program will be high-quality ones. The referral system can also be used for maintaining existing customers' loyalty, not only for attracting new ones.
I highly recommend ReferralCandy, we use it with our clients and is really easy to use and beautifully designed.
4. Launch a blog
Creating relevant content for a particular segment of your audience will help you easily attract high-quality leads. When the content you generate is helpful, people will be eager to subscribe to your newsletter or test your products. If launching your own blog is not possible, you can consider writing content and share it on other reliable blogs in your niche.
You can also try and collaborate with other industry leader's who have blogs with a lot of traffic from the target audience you are trying to attract.
5. Write an eBook
This is a great way to educate your potential customers. Writing a state-of-the-art eBook has two major benefits: on one hand, you can use it to collect email addresses, and on the other hand, by constantly educating your prospects, you'll increase your target group. In the long run, this will lead to the business growth you're dreaming of as you're reading this article.
You can totally outsource this part of the process and is very cost effective compared to other traditional marketing strategies. It will also help your business build trust and help educate
Well, there you have them: 5 easy steps that will help you attract high-quality leads. Like in any other process, you need to arm yourself with patience and practice consistency. While top-notch leads take more work and time to attract, the results will be well worth your wait and effort.