How's your freemium strategy going? We know how hard turning free users into paying customers can be due to purchasing a product or service that "looks" or "sounds" good nowadays is not enough for them, and there's a big debate outdate on if you should offer free trials, how long they should last or if you should ask credit card details from the get-go or not? But hey! We'll simplify the decision for you so keep reading.
So before you think twice if a free trial is the right answer to increasing your conversions, according to a Totango study, 44% of SaaS companies offer free trials to their visitors.
The central goal of a free trial is to get your visitor to create an account and use your product to double your chances of converting this new user into a brand-new paying customer.
A survey made by Databox found that Freemium version of your product it's the most popular model: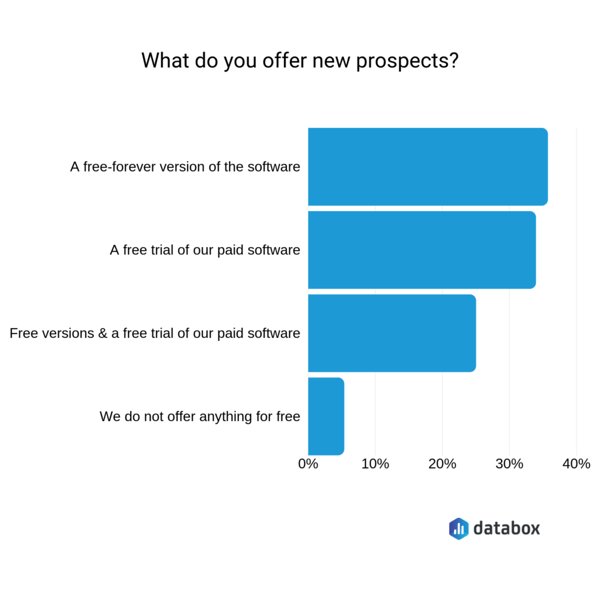 But what happens if they are not really choosing to pay after their trial ended? Is your strategy really working? Are you using the right approach and resources to help your strategy succeed?
In this article, you'll learn 5 of the most effective free trial marketing strategies you can use this month to convert more free-to-paid customers before this quarter ends!
1. Offer your free trial without requiring credit card information
Make sure not to require your users for their credit card information to start a free trial, if you do your conversions can drop significantly all the way to 2%! (but before you cry) When should you ask for their payment information? You should only require their credit card information a few days before their trial ends along with a quick explanation of how easy it is to become a premium member (is easy right?). Why? Look at the data below.
According to this information, your overall conversion rates will be better by not requiring credit card information upfront.
Another research of Totango shows that when you don't ask for credit card info, the rate of visitors signing up for free trials rises from 2% to 10%.
In other words, when you remove the credit card trial, you're reinforcing one of the essential tenets of a proper SaaS Marketing strategy: the customer engagement. However, make sure to aggressively integrate other diversity of digital strategies like gamification, loyalty programs, referrals, etc.
2. Remind them when your free trial is expiring
Many Saas companies usually make the horrible mistake of sending customer emails after the trial has expired instead of making sure to contact their new users before the expiration date, this is better known as an email marketing lead nurturing campaign to ensure your new users are actually visiting your product during their trial period, this is vital to make them understand how your product can help to make their lives easy.
Is as simple as a short email like "Hey Beth! Your subscription will expire in one week!" that's a really good strategy to remind your customers that their free trial expiration is pretty close and they should hurry and use your product or service while they can. If the duration of the trial is about 15 days, for example, you should send at least one email. But if the trial is longer perhaps a 1-month free trial, you can set a sequence of emails to keep them engaged with your brand and product or service during that period.
If your software has a mobile app, I also recommend setting push notifications like "We miss you! You still have 3 days left" or "Your trial expires in one week!" and event notifications such as "You have new activity today" and so on. Look at the example below.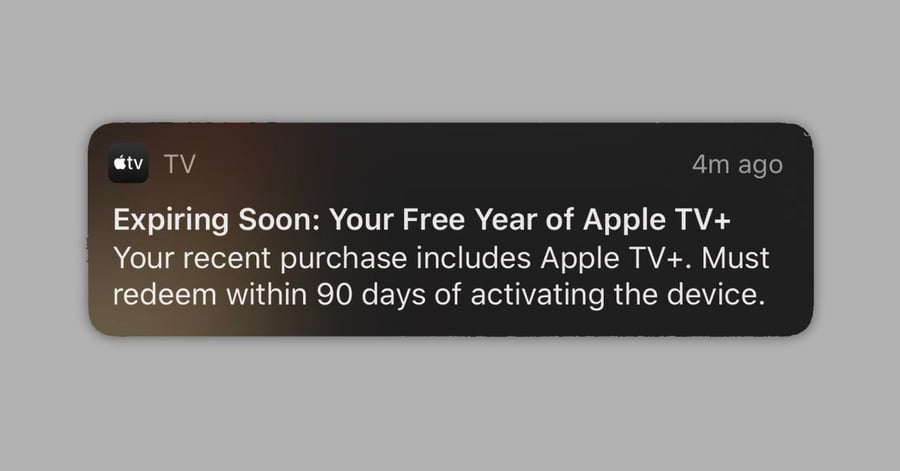 image source: 9to5Mac
The main idea of these notifications is to help you remind your users they should use your software while they can and create a frenzy. Why aren't they using your software? Maybe they forgot about the trial period — as it often happens, so hang in there and apply a follow-up across the whole journey of your customer to make sure they actually understand the value you bring to their lives.
3. Provide an early discount offer if they buy before your free trial expires
People love discounts! Leverage that love by offering a special discount if they upgrade to your paid version once their trial is done. You can catch their attention with a discount before the trial expires with a pop-up in their account or a simple email, for example:
They can receive an email that says something like this,
"Hey, Jeff
I just wanted to let you know that your free trial almost finishes, but we have good news for you!
If you've decided on subscribing to ABC, you will get a 35% off in your yearly package.


Click this link to subscribe. We won't be able to offer this discount once the free trial has ended, so please consider purchasing now.
This way you can create a sense of urgency for your prospect and give them a reason to take action immediately. This strategy will help you to earn more active sign-ups during the usage phase of the free trial, rather than at the end of it. You see how easy it is?"
4. A longer or shorter free trial?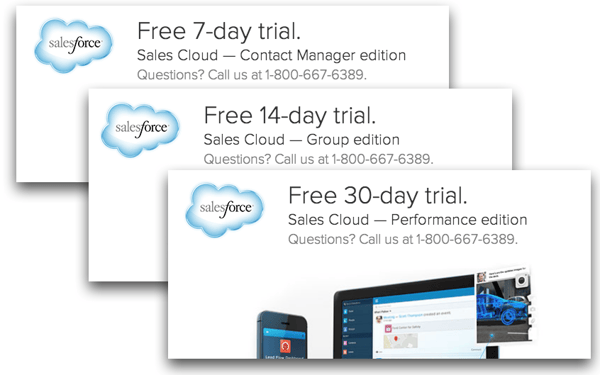 This one has been a topic of discussion, How long should your free trial be?
Well, it depends on what your service is about. For example, if you think that your software is a little bit complex, maybe your customers need 30 days of a free trial. It allows them to use it if they haven't had time and to depend on the product more.
But if you think your software is easier to use and people don't need too much time to engage with it, you can give your customers only 15 days of free trial. Make sure to go deeper into the user's behavior and think about how they actually use your product and how long it takes to get results from your product
5. Make it easy for the customer to buy
.
Once the free trial has ended, it should be absolutely easy for the customer to buy the full version. As human beings, we are always searching for easy solutions for everything. What does this mean? Customers need to be told, step-by-step, how to buy the product. If your customers have to ask how to buy the product or how to activate an account you're doing something wrong! They should understand the process without you explaining it to them.
If your purchase process is complicated, your customers can leave your page and you'll have to make an extra effort to attract them again. So pay attention to your purchase flow and make it simple!
Bonus tip: Throughout the free trial and after that, you should have a sequence of emails that will remind your customers about your product or service. That's called Lead Nurturing. It allows them to keep coming back to you and feel more engaged with your brand.